Auxiliary and Business Services
A&BS provides essential services to students, faculty, staff, and the public.
About Us
Auxiliary and Business Services (A&BS) is an umbrella organization with non-academic support units. We are one of the largest units of Penn State's Finance & Business. From the dining commons to the airport and a 16,000-seat arena that hosts sports, music, and entertainment events, A&BS provides essential services to students, faculty, staff, and the public.
Image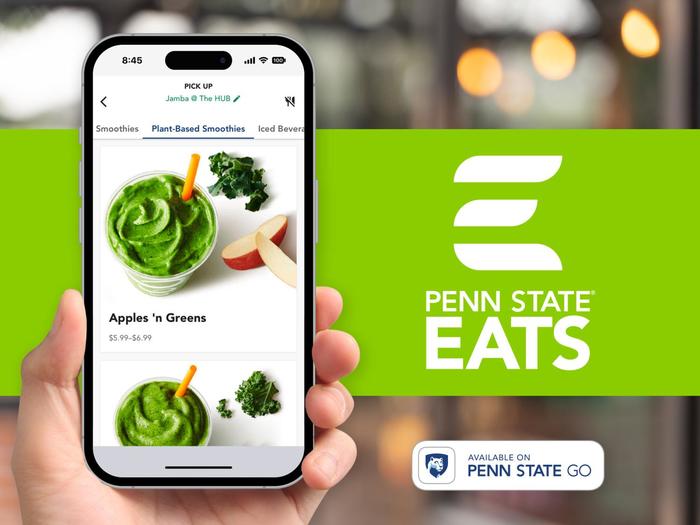 Penn State Eats Mobile ordering is now available in the Penn State Go app
Penn State has unveiled its latest enhancement to improve the dining experience for students at University Park and the Commonwealth Campuses with the release of Penn State Eats Mobile in the Penn State Go app.
Mission, Vision and Values
Our Mission
We make Penn State home to our University and extended communities through exemplary people, service, quality and financial stewardship.
Our Vision
Auxiliary and Business Services will be a progressive, creative, innovative, and caring organization which provides the highest quality services, leadership, and expertise valued by our customers, our staff, and the community we serve.
Our Goals
Ensure the long term fiscal integrity of the University through professional management and stewardship of University resources and consistently provide high quality, value, innovation, and excellence.
Develop and manage hospitality, student residence, conference, educational, and event facilities which exceed customer expectations in support of the University's strategic direction.
Effectively manage and develop human resources within Auxiliary and Business Services while providing optimum personal satisfaction and professional growth in a diverse, enriching, challenging, and stimulating environment.
Effectively communicate internally and externally and encourage a free exchange of ideas.
Develop, share, and utilize technology systems to maximize market share, increase workplace efficiency, open up services to new markets, and identify current opportunities for growth.
Develop, market, and integrate programs and services which support Penn State's mission of teaching, research, and service.
A&BS at a Glance
Over the past year, Auxiliary and Business Services has impacted student life and the community. 
2.35M+
passengers on Transportation Services' campus shuttles and CATA buses
25K+
student mobile id+ cards issued
1.6M
All-You-Care-To-Eat meals served